jr. & sr. high outdoor leadership school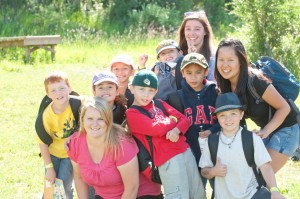 Our Outdoor Leadership program focuses on personal and group development through outdoor adventure activities. Through direct experience with the outdoors, participants face personal challenge, skill development and personal reflection.
Students learn hard skills, such as fire and shelter building, hike preparation, compass use and track identification. This program also helps students develop the social skills necessary for outdoor leadership, such as communication, cooperation, initiative and acceptance.
Instincts for Survival
Students will use their instincts to survive in our Instincts for Survival game. Students will enjoy the chase and the thrill of surviving, cooperating with teammates, engaging in physical activity, and having fun! The Instincts for Survival game teaches participants about what living things need to survive, the food chain, life cycles, and the relationship between humans and habitats.
Goal Setting
At the start of their stay, students will establish their goals. Each day, there will be check-ins and times for debrief and reflection to help students reach their goals.
Nature Hike
Students will engage in a guided hike, exploring the natural world around them. Students will be encouraged to use their senses as they participate in a variety of activities designed to increase their awareness of nature in their own backyard.
Wilderness Skills
Students will learn the basics of surviving in the wilderness. Students will learn how humans have historically survived in the wilderness, focusing on shelter and fire-building. See if you have what it takes to survive!
Leadership
Students will learn engage with each other in a dynamic discussion about leadership and establish what aspects of leadership they will focus on during their stay.
Cooperative Games
Students will be given a series of challenges requiring the use of teamwork and communication to achieve their objective.
Orienteering
Students learn about direction, true north versus magnetic north, parts of a compass, compass use and maps. Give your hand at this traditional activity and learn how to navigate from here to there.
Initiatives/Team Building
Students have the opportunity to practice their problem-solving and communication skills by working through fun and challenging tasks as a team.
Challenge Course Activities
Challenge Course activities are part of the Outdoor Leadership Program. Challenge course activities require certified staff, small group sizes, and in some cases, a minimum age of students. The availability of challenge course activities to schools depends on the number of students attending and the number of days they are at camp, in order to have enough time for all students to participate.
Our Challenge Course Activities are:
Climbing Wall
Giant Swing
Zip Line
High Ropes Course
Low Ropes Course
Team's Pod
Challenge by Choice
All Camp Kindle programs follow the 'Challenge by Choice' philosophy, which allows participants to define success individually, giving them the opportunity to choose the level at which they challenge themselves. We encourage all participants to try each activity and reach outside of their comfort zones. We do not force or peer-pressure participants into activities or actions they do not feel comfortable with.