Activities
Snowshoe
Come explore our large trail system on snowshoes! We have incredible scenery and ample space for you to explore.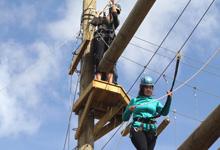 Team Initiatives & High Ropes
Our state-of-the-art challenge course consists of a climbing wall, high ropes course, giant swing, zip line and teams pod. Of course it's fun trying something new and physically challenging, but the important take-away is the group has to think collectively and experiment with creative ideas to find solutions. Our facilitators can debrief with each group to assess their communication, teamwork, trust and initiative. Hard work + success = good fun!
Hiking
Camp Kindle has an extensive on-site trail system within its 140 acres of natural forest. Choose a half day, or a full day hike and enjoy the nature initiatives and facts along the way.
Orienteering
Your team will learn proper compass and map use along with orienteering techniques to work their way through one of the many courses on site at the camp. Courses range in difficulty, length and terrain. Choose the one that will challenge and entertain your group best.
Archery
Archery's on the upswing, so take advantage. You'll learn proper aiming and shooting techniques and safety procedures. We can add games to the challenge to enhance the activity and put your new-found archers to the test!
Campfires
It's not camp without a campfire. Fire it up! Then add songs, skits, lots of laughs and s'mores!